Page 4 - SCNE2122_Binder1_HLink Done_130421
P. 4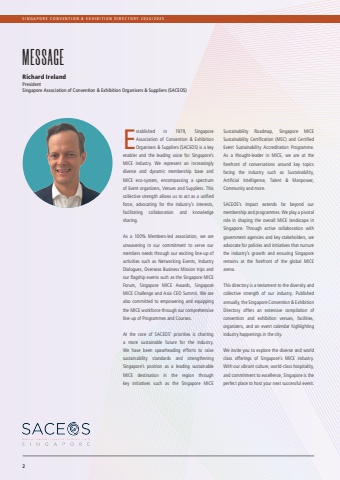 By showing how countrie"
s can consistently comply with hygiene and safety measures, Singapore is a pioneer in organising events for a new era.
– Ms Katariina Rohrbach
Managing Director, Hannover Fairs Asia-Pacific Pte Ltd
PLAN YOUR NEXT BUSINESS EVENT IN SINGAPORE WITH PEACE OF MIND
As the world transitions to a new normal beyond COVID-19, health and cleanliness have become key priorities for international travel. Singapore – crowned the Top Meeting City in Asia-Pacific for 18 consecutive years
– has long had a global reputation for cleanliness and safety, and is a gateway to access the Asia market.
Singapore continues to solidify its position with SG Clean – a national mark of excellence for tourism businesses adhering to the highest standards of cleanliness and hygiene.
What is SG Clean?
An initiative supported by various agencies of the Singapore Government and audited by third party assessors, the SG Clean quality mark is a stamp of assurance that establishments are upholding rigorous, sector-specific sanitation and hygiene practices. While businesses across the island have adopted Safe Management Measures
– such as social distancing, minimising physical touchpoints and enhanced cleaning of premises – SG Clean goes a step further, promoting collective action to make Singapore a cleaner and more pleasant environment for all.
Since March 2020, more than 5,000 local establishments such as hotels, attractions, restaurants, retail outlets, and prominent business event venues like the Singapore Expo and MAX Atria, Suntec City Convention & Exhibition Centre, Sands Expo and Convention Centre at Marina Bay Sands
and Resorts World Sentosa Convention Centre have been awarded this certification. With SG Clean being adopted across more establishments around Singapore, event organisers, delegates and business travellers can be at ease as they return to the city
to do business.
Plan your next business event at VisitSingapore.com/MICE.